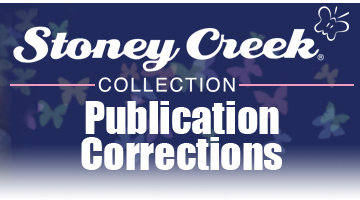 All Stoney Creek publications have been designed and printed with our best intentions of being accurate and without mistakes. However, human or mechanical errors are possible. We regret that we cannot be held responsible for human error, printing mistakes, or variations in individual workmanship.

If you find an error in a Stoney Creek publication that you would like to bring to our attention, please don't hesitate to contact us at xstitch@stoneycreek.com.

Errors found after publication of specific designs will be corrected and posted here for download. We apologize for any inconvenience.